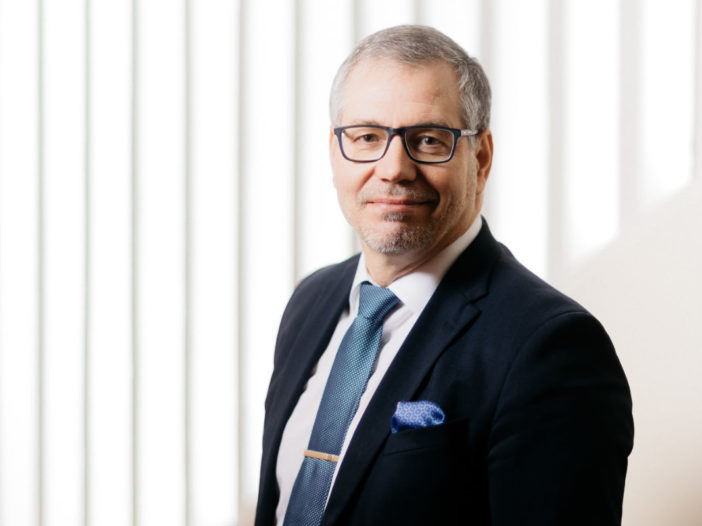 Professor Keijo Hämäläinen, Rector of the University of Jyväskylä, has joined the Board of the Finnish Research Impact Foundation as of 1 January 2022. He has previously served as Chairman of Universities Finland UNIFI and is currently a board member of the Finnish Cultural Foundation and the Finnish Innovation Fund Sitra.
Keijo Hämäläinen has held several positions of trust both within and outside of academia. He was appointed Rector of the University of Jyväskylä in 2017, having previously served as Vice Rector at the University of Helsinki. Hämäläinen comes from a background of international physics research, and he has also been honoured for his teaching. So what is his relation to doing science?
"I'm a researcher by background as well as in terms of my thinking, and science has always been my passion. The rector's role is one of an academic leader who must have a practical understanding of how research is done. Science and research lies at the heart of everything at university," he says.
The Finnish Research Impact Foundation was set up by the Finnish government in 2019 to increase the impact of research and to strengthen partnerships between academia and industry. What thoughts does Keijo Hämäläinen have about the impact of science?
"You have to let science evolve under its own gravitation, but impact must not be considered an obstacle. From science's viewpoint, progress in research is the most important impact. The results and outputs of research are then the outside impacts on the rest of society. The challenges we're facing in the world today are so momentous that I feel science has a moral obligation to address them and to make an impact. Besides, they are all exciting and interesting scientific challenges in their own right," Hämäläinen continues.
A report commissioned by FRIF in 2021 showed that cooperation between academia and industry in Finland has been on a downward trend over the past decade. There's a growing drive now to turn things around: one important tool to this end is the national RDI roadmap adopted by the Ministerial Working Group on Competence, Education, Culture and Innovation. How does the Rector of the University of Jyväskylä see the state of cooperation between universities and business in Finland today?
"Finnish business and industry certainly values and appreciates the work and research we're doing at our universities and recognizes the importance of basic research. The higher up we move in the business hierarchy, the greater the recognition of the different but complementary roles of academia and industry in producing new innovations. But of course there's always room for improvement in the dialogue, for instance by learning what's happening in each world and what's most important," Hämäläinen says.
"Some research questions are more relevant to industry than they are to academia, and finding answers to these questions can offer a fast track to achieving impact. Other questions will require a longer time window to open up research paths that can pave the way to relevant advances in science. The scales are not always aligned," Hämäläinen continues.
FRIF's role is to support dialogue and to promote impact. Professor Hämäläinen has a clear view of how substantial impact can be achieved.
"In essence it's all about skilled and competent people. We must get the best talents to commit themselves to science and research and to the application of cutting edge research. Whenever there is impact to be achieved, we must have access to the means to promote that impact. Research collaborations with industry are not a secondary alternative," Hämäläinen says.
A seat on the FRIF Board became vacant following the rotational retirement of former Vice Rector of Tampere University, Juha Teperi, who did not seek a second term on the Board. The Board of the Finnish Research Impact Foundation consulted Universities Finland UNIFI, one of the background organizations involved in founding FRIF, to request nominations for new Board members. The FRIF Board appointed Keijo Hämäläinen to the vacant Board seat on 13 December 2021, and he started his first three-year term on 1 January 2022. Under the foundation's current rules, Board members can serve a maximum of two consecutive terms.