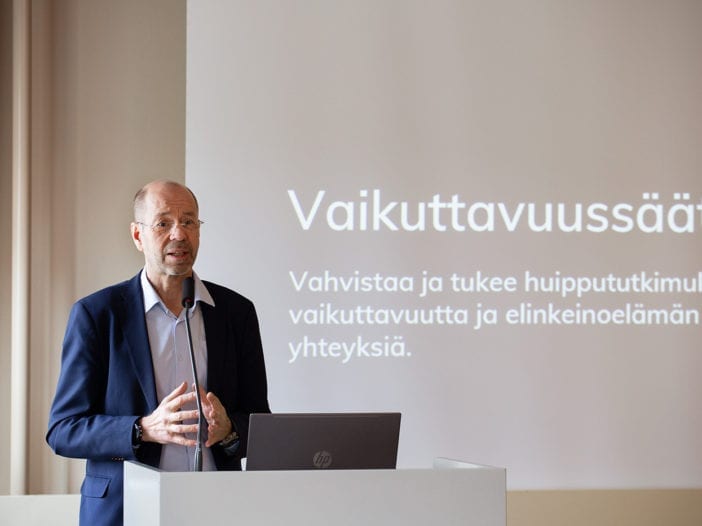 FRIF to announce new funding calls – Call for impact assessment proposals to open in autumn 2020
The Board of the Finnish Research Impact Foundation has decided to launch a new funding call for proposals on research impact assessment. In addition, the Board has decided to rerun in spring 2021 the Tandem Industry Academia call that was held for the first time earlier this year.
Mr Lauri Oksanen, Chairman of the FRIF Board, opened the virtual ceremony for the announcement of the Foundation's first-ever grant recipients on 16 September 2020. He took the opportunity to describe the mission of the newly established foundation and also outlined its plans for upcoming funding calls.
Mr Oksanen said the foundation's role is to enhance the impact of research in Finland, especially in relation to business and industry. Finnish universities and research institutes produce a great deal of world-class research, and it is the foundation's goal to further strengthen the impact of that work.
"We're not just adding small amounts to the already substantial volume of basic research funding, but we are specifically committed to enhancing the impact of research," Oksanen said.
Rerun of Tandem Industry Academia call scheduled for spring 2021
Under its first-ever funding call Tandem Industry Academia, FRIF awarded funding to 11 research projects jointly undertaken by research organisations and business companies. The call was held in spring 2020.
"Our funding is not intended as one-way support mechanism. We don't just want to support the way that companies can benefit from leading-edge research, but also how companies can contribute to and boost the basic research that is done at universities and research institutes. It's a two-way process of mutual benefit," Oksanen stressed.
Given the positive response to the call, the FRIF Board has decided to rerun the funding call in spring 2021. Further information regarding the call will be made available on the FRIF website and through the Foundation's newsletter and social media channels.
New call for research impact assessment to open in the autumn
FRIF is furthermore planning to promote awareness about different mechanisms and funding models for supporting the impact of research. In autumn 2020, the Foundation will be opening a call for proposals on an impact assessment project to monitor and follow-up the impact of research funded by FRIF itself. The purpose is to set up a multi-year project under a team specialising in research impact assessment with a view to gauging the impact of the Foundation's funding. The call will be opened in October-November 2020; check the FRIF website for further information.
The Foundation will also be funding a report to compile the best up-to-date knowledge about funding sources available for supporting research impact. The results will be made publicly available in early 2021.
Watch Lauri Oksanen's speech at the Grant Recipients's celebration.