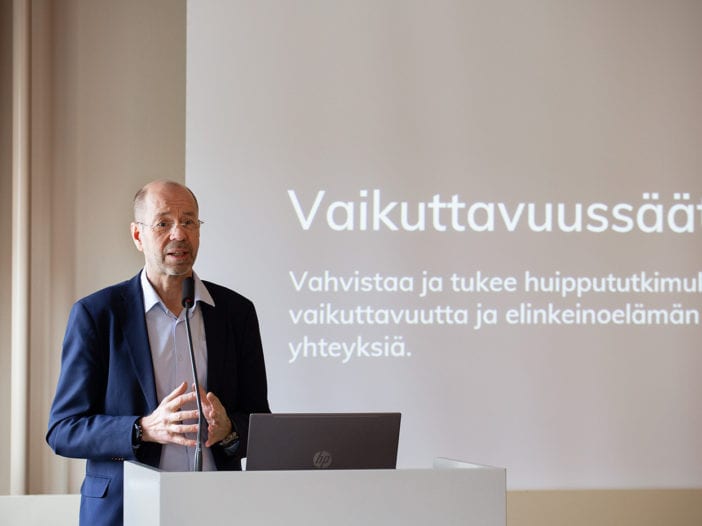 The Finnish Research Impact Foundation's first-ever call for funding applications was announced in an online networking event on 13 March 2020. Addressing a predominantly remote audience because of the coronavirus pandemic, Chairman of the Board Mr Lauri Oksanen described the foundation's main aim and role, i.e. to achieve greater impact from research excellence:
"The Finnish Research Impact Foundation's mission is not so much to produce completely new research, but rather to find ways of boosting the impact of all high level research, especially with a view to strengthening Finnish business and industry and Finnish competitiveness in general," Mr Oksanen said.
"Joint research ventures are always a major risk, especially for smaller companies, and this is one of the barriers we hope to be able to lower through new funding models. Furthermore, the foundation will be working to create new contacts by supporting and promoting networking and by showcasing examples of effective cooperation – via both good experiences and bad," Mr Oksanen continued.
In the first call for funding applications, FRIF highlighted the need for increased mobility between industry and academia. To this end the foundation launched the Tandem Industry Academia call for applications, which is intended to support joint projects between research organizations and business companies. As well as promoting the impact of high level research, it is hoped and anticipated that the projects funded will have a wider and longer term impact in terms of deepening industry-academia cooperation.
The call for applications closed on 30 April 2020 and attracted great interest. The FRIF Board will discuss and decide on the timing of the next call once it has accumulated more experience about current projects and processes.